November 16 @ 10:00 am
-
5:00 pm
MYR100
Looking to put your business in the Spotlight?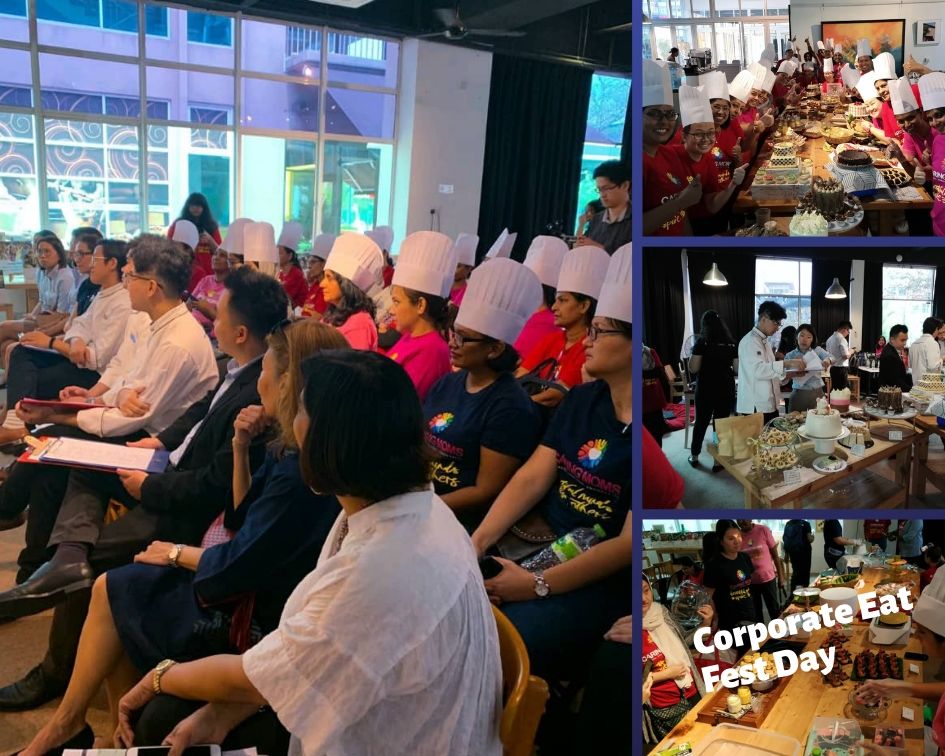 August 2, 2019 
CORPORATE EAT FEST DAY
CARING MOMS CEO, Major (Retired) Shera Ann Bosco said that "Eat Fest started off as a networking event. Moving one step ahead, the eat fest has [now] ventured into the Corporate Eat Fest day where corporate brands are invited to come over and build relationships with the community".
Partnering up with Anchor Food Professionals, this year's Corporate Eat Fest was also aimed at bringing home bakers on the CARING MOMS platform a step closer towards creating more sustainable efforts in developing a legacy and a micro-business.
The partnership comes in conjunction with Fonterra's 133rd birthday in November. As a start towards the partnership, 30 mothers were invited to participate in the Corporate Eat Fest, concocting various savory and sweet baked goods using Anchor products.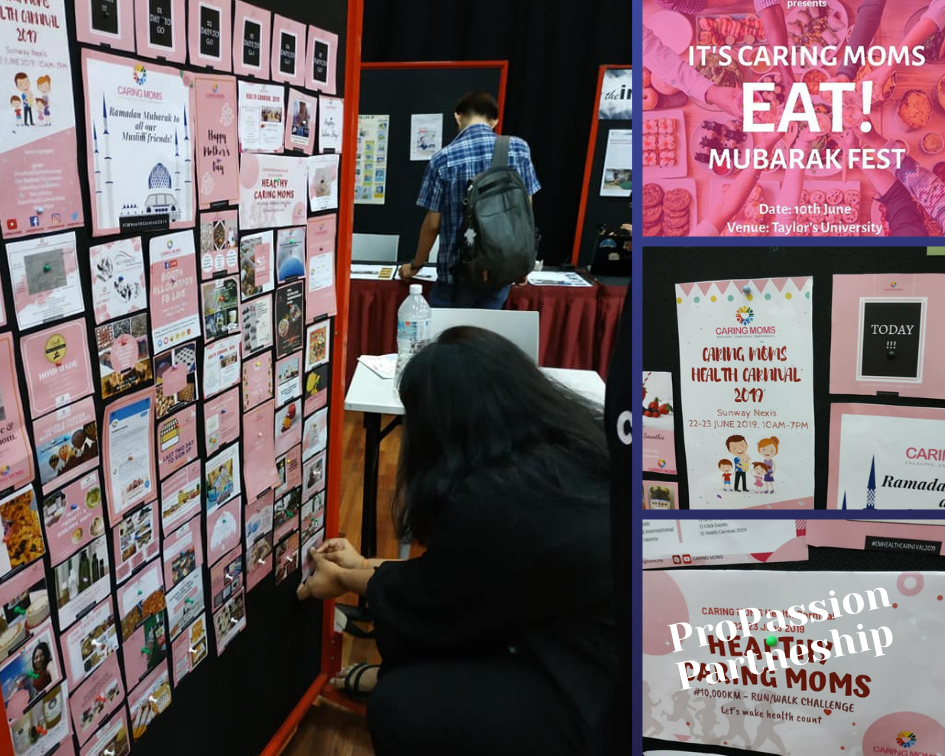 ProPassion Partnership with CARING MOMS
June 25, 2019 
BMC DEGREE SHOWCASE
ALL FOR ONE
This year, CARING MOMS were assisted by the Public Relations and Event Management students of proPassions Communications. School of Media and Communications, Taylors University to bring a new level of awareness amongst undergraduates on the operations of a social enterprise that operates independently without assistance from government funding or grants. An amazing team of 19 bright and vibrant students was tasked with developing the concept and activities for CARING MOMS flagship Health Carnival this year.
The team embarked on a promotional blitz to help secure sponsors, partners, entertainers, media & VIPs as well as producing creative collateral materials and social media campaigns. What stood out was their unwavering commitment to make the event a success and their support for all on-ground activities despite the challenges.
CARING MOMS on behalf of all the Mums at the Carnival would like to thank them for their loving support and cheerful presence that truly made all the difference at our CARING MOMS Health Carnival!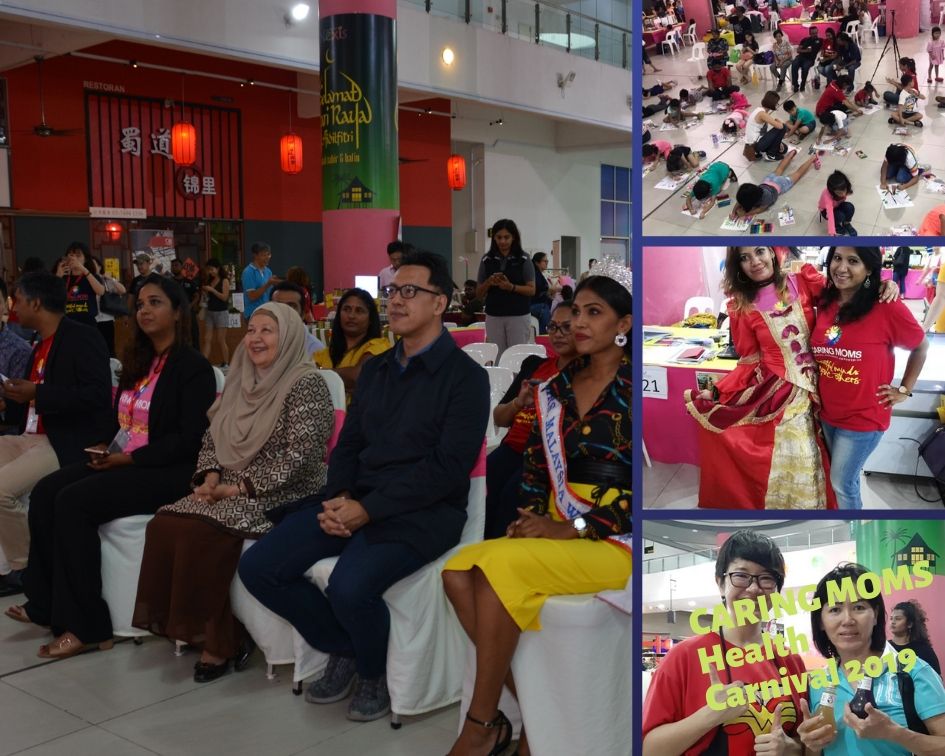 June 22 & 23, 2019 
WHEN IS  THE NEXT BAZAAR?
Despite swollen feet, injured wrists and sleep deprivation for days, as soon as CARING MOMS HEALTH CARNIVAL concluded, Moms were already asking when the next bazaar was happening!
It certainly is a high like no other, with loads of activities, food, fun & games. This year there were over 200 booths selling a wide variety of food, personal care products, holiday packages, hand-made items, massage & make-up services alongside corporate vendors from the banking, healthcare, fitness and education sectors.
This year's carnival was officiated by Tunku Maziah Tunku Mukhtar, owner of Nyla Sdn Bhd, who is a long-time supporter of CARING MOMS and a most beloved patron. Other VIPs at the launch ceremony included Miss Kokilam Kathirvailu, Mrs. Malaysia World 2018/2019 as well as other corporate personalities.
Themed "A Mother's Health is a Family's Wealth" brought attention to the fact that mental health is also as important, if not more so than physical health as the mental attitude is key to everything else.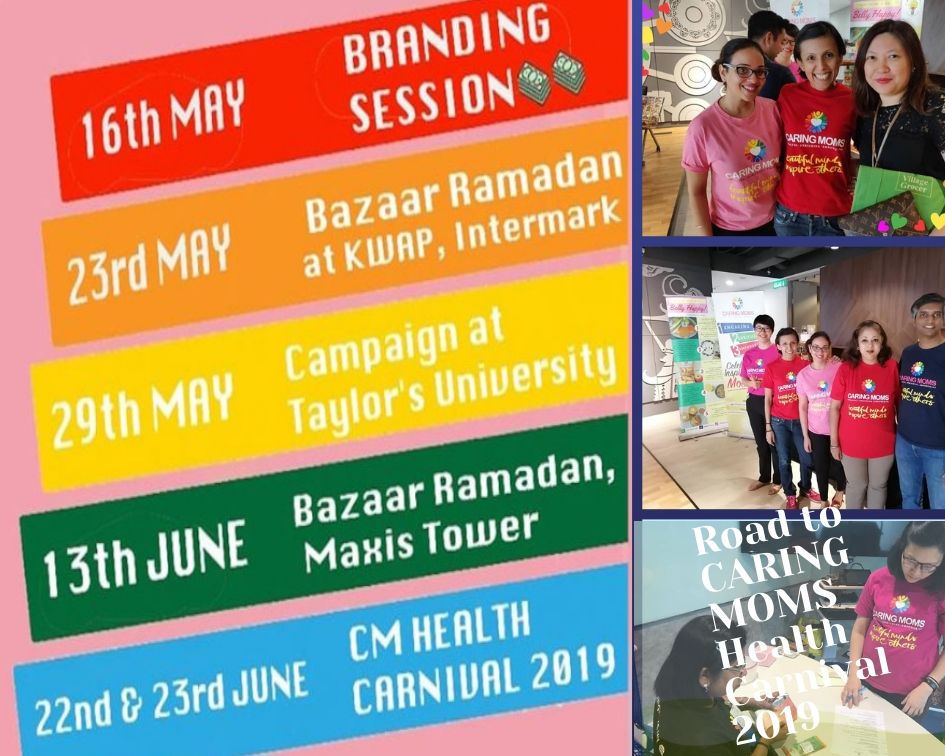 Road to CARING MOMS Health Carnival 2019
May 23– KWAP Intermark, May 29 – Taylor's University, June 13 – Maxis Tower
HIT THE ROAD MOM!
Right after the Branding workshop concluded in May, CARING MOMS hit the road and took their goodies with them. For first-time bazaar sellers, the roadshow was a golden opportunity to put their learning to good use while seasoned sellers honed their selling skills; all in preparation for the BIG EVENT on June 22 & 23rd.
We thank our corporate partners; KWAP, Taylor's University & Maxis for the opportunity given to CARING MOMS to showcase their clients at the roadshow.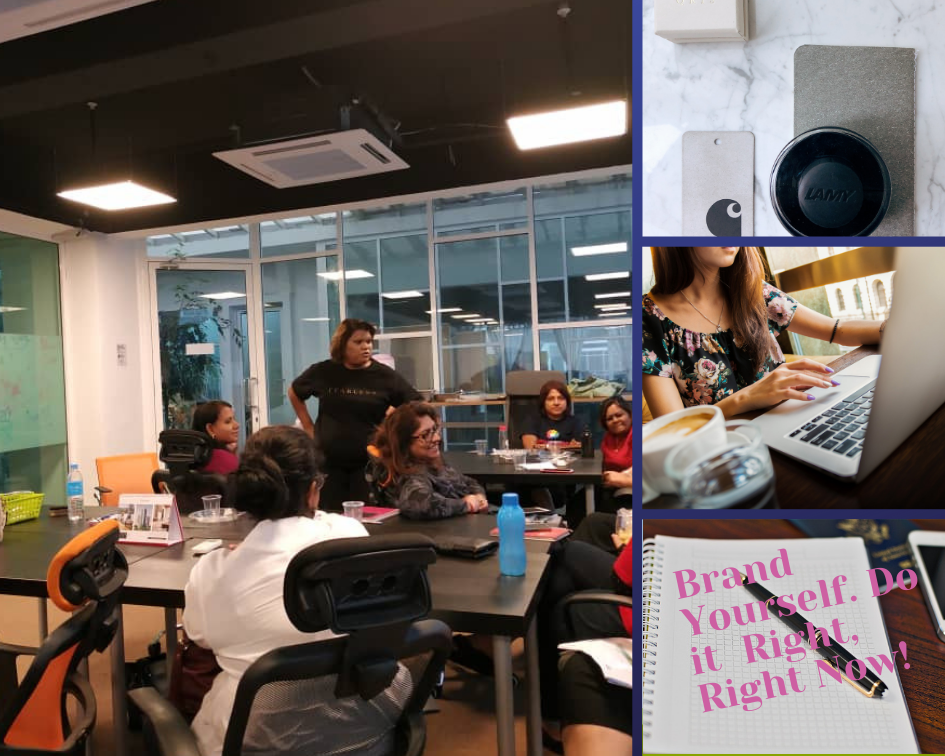 May 22, 2019
Number of Attendees – 13
WE SEE YOUR TRUE COLOURS!
After our session last week on how to brand your business for bazaars, CARING MOMS organized this session facilitated by a corporate trainer, Lynette Christie to help Moms unleash their true colors.
Brands become iconic because of the personality behind the brand – think Steve Jobs, Richard Branson, Gordon Ramsey, Shera Ann Bosco (ahem) just to name a few. For most of us, we don't think that far, we focus just on selling products and services not realizing that how we project ourselves is our biggest marketing asset.
Participants at this session were given a series of exercises to help them come out of their shells and to allow their own personality to shine through. As Coach Lynette says "You can't give what you don't have".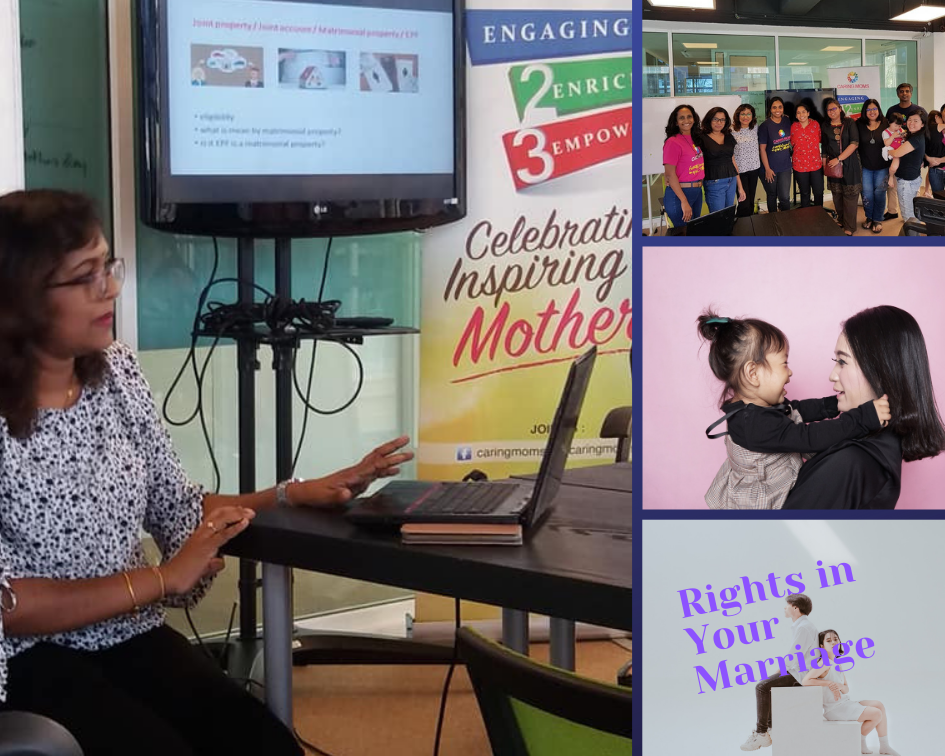 May 18, 2019
Number of Attendees – 16
OH! I DIDN'T KNOW THAT….
Of all the contracts we get into over our lifetime, for some reason, the contract of marriage is the one contract we hardly look into with a fine-tooth comb. It is only when the marriage is in trouble that we anxiously ask people for advice.
"What can I do?" is one of the most common questions we hear in CARING MOMS from women who are unsure of what their rights are in a marriage. So, on May 18th, we had an insightful and eye-opening session with the lawyer, Renuga Ramayah on rights and procedures based on real-life examples pertaining to domestic violence, custody battles and types of divorce petitions.
Good, useful information that not only benefited women in troubled marriages but as general awareness for all who attended to be able to help others if the need arises.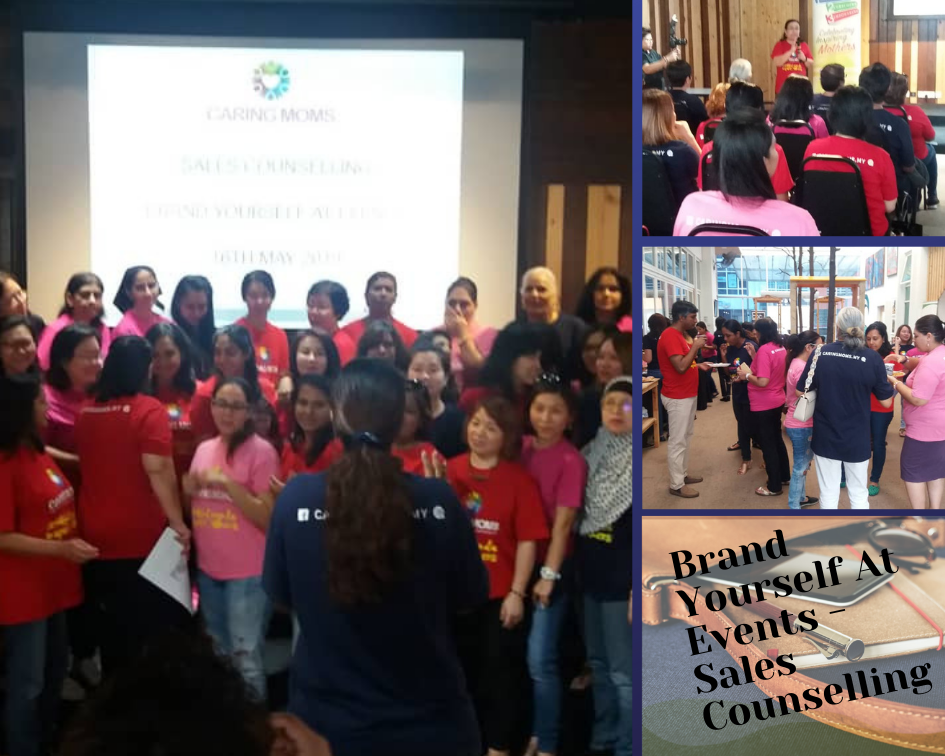 Brand Yourself At Events – Sales Counselling
May 16, 2019
Number of Attendees – 92 
ARE YOU A CUCKOO?
Anywhere else, if someone called you that, you would feel insulted but not here at CARING MOMS. When you are "cuckoo" enough to not only be an early bird but a "kukubird" you get REWARDED!
As a run-up to our CARING MOMS HEALTH CARNIVAL 2019, all CARING MOMS who snapped up early-bird and kuku-bird deals were given an exclusive session on how to brand themselves in preparation of the bazaar to optimize sales.
Resident sales counselor, Jaime Yong gave a no holds barred session on how to prepare yourself pre-event and what to do at the event. Veteran bazaar sellers also gave valuable tips from experience to help first-time bazaar vendors overcome their fear of selling at events.
What's a CARING MOM event if it doesn't involve food? In true CARING MOMS fashion, all participants were treated to a smorgasbord of delicious delectable mouth-watering food supplied by Moms attending the workshop.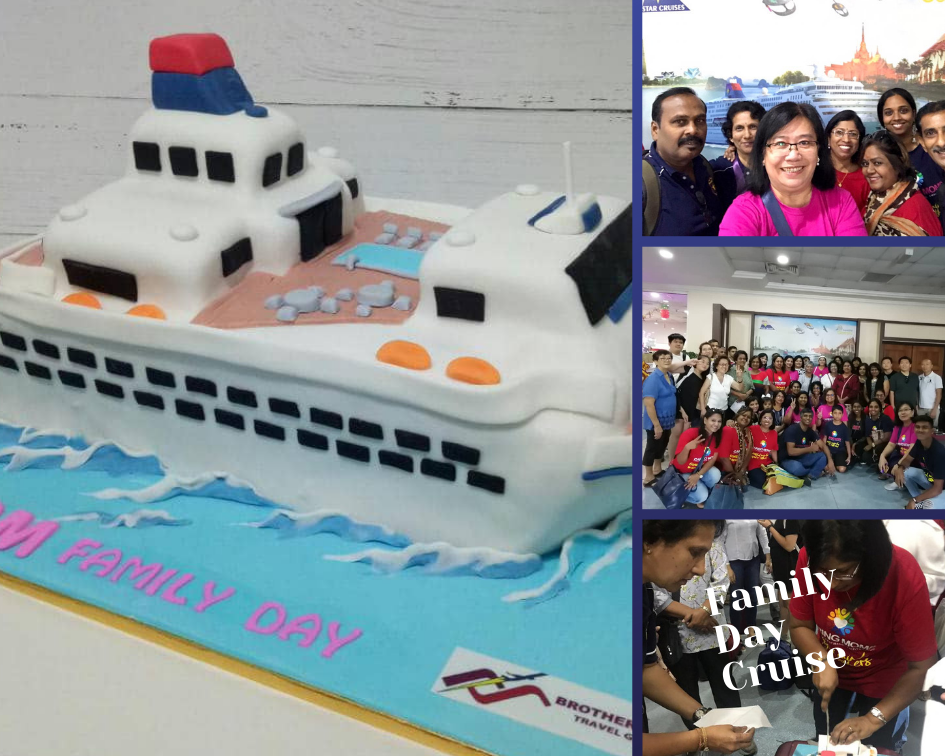 Family Day Cruise
01 May 2019
Number of Attendees – 69 pax 
AHOY THERE!
4D3N Port Klang- Phuket-Penang-Port Klang
CARING MOMS on board the Superstar Gemini for a 4D3N nautical adventure across the high seas. Moms and their families, children, in-laws, and out-laws set sail on May 1st for a fun family getaway from Port Klang to Phuket and on the return-leg disembarking at the pearl of the Orient, Penang before heading home to dock at Port Klang.
As usual, a gaggle of CARING MOMS anywhere would be a riotous affair with loads of laughter and this trip proved to have more of the same. Our CARING MOMS are used to working tirelessly every day so it was good to see them letting their hair down enjoying the food, fun, and entertainment on board the cruise for a few days.