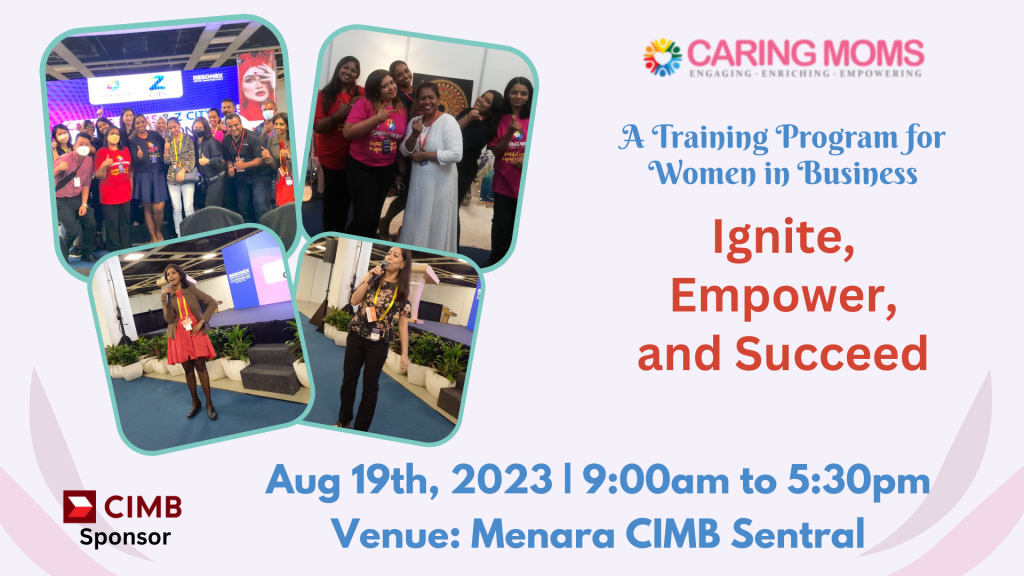 Date: 19th August 2023 ( Sat)
Time: 09:00 am – 05:30 pm
Venue: Menara CIMB Sentral, Level 15, Room 5, Jalan Stesen Sentral, Kuala Lumpur
Fee:  RM 100 (Member) / RM 550 (Nonmember)
"Ignite, Empower, and Succeed" is a comprehensive training program designed to equip aspiring women entrepreneurs with the essential knowledge and skills needed to succeed in the digital era. The program will consist of interactive workshops, mentoring sessions, and networking opportunities, covering various aspects of business management, marketing strategies, financial management, and digital literacy.
Program :
9:00 AM – 9:15 AM
Registration and Welcome
9:15 AM – 10:15 AM
Session 1: Ignite Your Entrepreneurial Spark and Envision Your Future
10:15 AM – 11:30 AM
Session 2: Unleashing Your Entrepreneurial Superpowers
11:30 AM – 12:30 AM
Session 3: From Passion to Action: Pursuing Your Entrepreneurial Journey
12:30 PM – 01:30 PM
Lunch Break/Networking.
01:30 PM – 2:30 PM
Session 4: Presenting Your Business Vision and Next Steps
02:30 PM – 03:30 PM 
Session 5: Unlocking Financial Potential: Funding and Financial Options
03:30 PM – 04:30 PM
Session 6: Digital Literacy and Scam Awareness: Protecting Your Business
04:30 PM – 05:00 PM
Closing Remarks
Who can participate?
Existing Women Entrepreneurs: Women who are already running their own businesses and are looking to enhance their knowledge, gain new strategies, and connect with a supportive community of like-minded entrepreneurs.
Aspiring Women Entrepreneurs: Women who have a business idea or are in the early stages of starting their own venture. The training will provide them with valuable insights, inspiration, and practical guidance to launch and grow their businesses successfully.
Small-Scale Women Entrepreneurs: Women who own and operate small-scale businesses and are looking for strategies to overcome challenges, access funding, improve financial management, and scale their ventures.
Note: ALL participants will be entitled to the CM Ads Subsidised Campaign for year 2024.