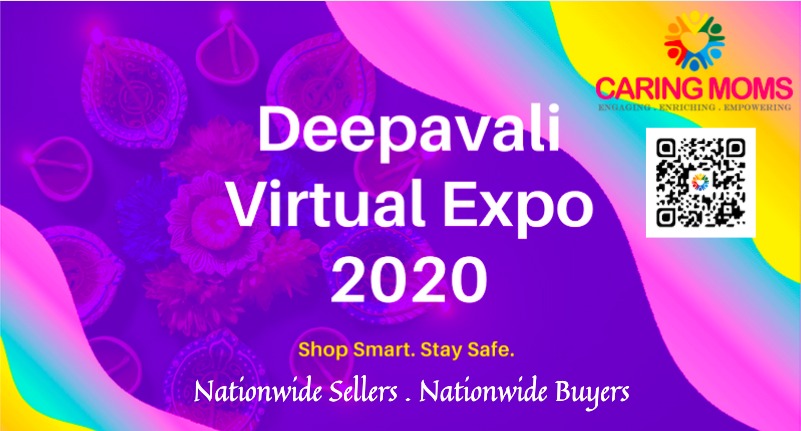 Welcome to Deepavali Virtual Expo – 2020
In a multi-racial country such as Malaysia, it is impossible to ignore the festivities. Such is the situation with Deepavali 2020 where it is a must to shop for the home needs, bake festive goodies, call over family/friends to celebrate the Festival of Lights.
With the unpredictable COVID-19 situation, digitalizing businesses is no longer a trend, it is now a need for any entrepreneur. Women entrepreneurs CARING MOMS are keeping up in this new norm of going digital with their business with the first of its kind – CARING MOMS Deepavali Virtual Expo 2020 that is set to take place from October 28 – November 11. CARING MOMS strongly believes in empowering local businesses championed by women. This is so women can sustain the family economy and finances.
Preparing early with their Deepavali goods/services, CARING MOMS sellers are ready to ensure their customer's needs are met this Deepavali. Be it catering orders, Deepavali delicacies, clothing/apparels – you name it and it is highly likely you can source for it at the CARING MOMS Deepavali Virtual Expo 2020.
The CARING MOMS Deepavali Virtual Expo 2020 concept will take place mainly on Facebook where sellers will engage with their customers via live sessions to hear out the sellers and about their products or services, ask questions, and have their answers there and then and immediately purchase their order with the seller. An online catalog for the Deepavali Virtual Expo will be made readily available to browse through on the variety of options available to purchase from.
The CARING MOMS Deepavali Virtual Expo allows visitors to tune into the event on Facebook on any digital device of their preference at any time during the 2 weeks duration of the expo. In an attempt to aid women entrepreneurs, registration is open to any woman residing in Malaysia to participate in this expo.
CARING MOMS has onboarded 35 Sellers so far (the numbers increasing as the days go) for this expo who will showcase their product/ services during the CARING MOMS Deepavali Virtual Expo 2020.
We asked some of our Deepavali Expo sellers on what they thought about the new norm and being part of our  Virtual Expo. Here is what they had to say: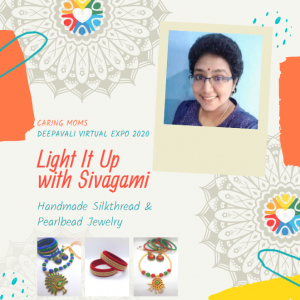 Sivagami
(Silk Thread, and Pearl Bead Jewelry)
"Doing business in this pandemic is very challenging and I feel blessed to be a part of the Virtual  Expo. Very helpful for my small business!"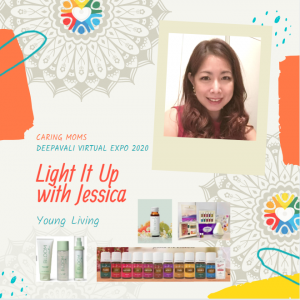 Jessica
(Young Living Essential Oils)
"The new norm is challenging because it lacks the physical human touch but having a Virtual Expo is fantastic because we get to connect to more buyers all around Malaysia and network with the sellers too."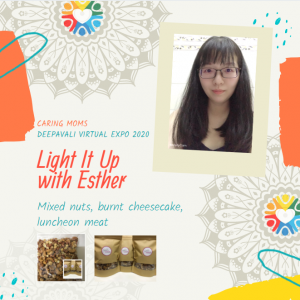 Esther Wong
(Healthy Baked Mixed Nut)
"Very difficult to get new business and maintain customer relations, but with the Virtual Expo, we are able to connect more with our customers."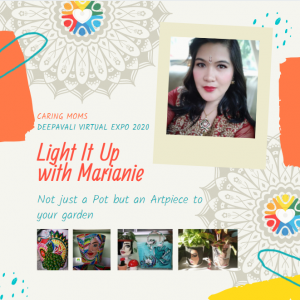 Adrianie(Marianie)
(Crafty Planter)
"Though this so-called NEW NORM causes so much inconvenience to everyone, yet I see this as an opportunity to challenge ourselves to be more resilient in every situation…I have no idea about this Virtual Expo but I joined anyway. I believed trying new things out of our comfort zone will bring the best version of ourselves."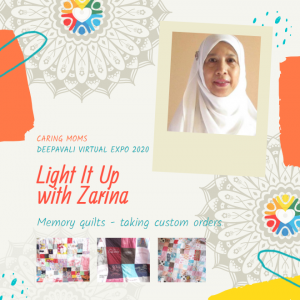 Zarina ZA.
(Zarina Craft)
"The new norm makes us reflect not to take things for granted. The virtual expo not only do we maintain the social distancing required in this pandemic but we are able to engage people from all over the country without incurring travel costs."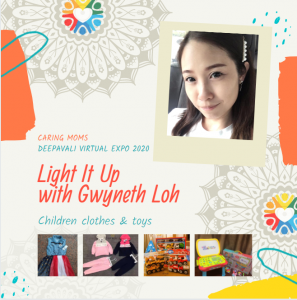 Gwyneth Loh
(QT Kids | Children clothes & toys stuff)
"Being part of a Virtual Expo is full of encouragement & support from the CARING MOMS team. Feel so grateful for getting more people to know about me & branding, not only for Klang Valley, IT IS NATIONWIDE!"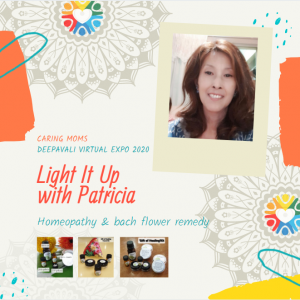 Pat Ong
(Nature Remedies)
"Life goes on in the new norm. It takes a positive can-do attitude to weather it out. CARING MOMS Virtual Expo is an amazing platform for sharing and caring. I am so amazed at the skills, entrepreneurship of all mommies here. Excited to be part of it."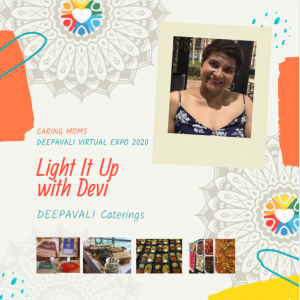 Devi Nath
(Narmys Kitchen Catering)
"We knew the world is moving to a digitized era. The new norm encourages all business owners to think outside the box to accommodate the current situation we live in.  You can't deny that virtual business has its perks as well. I am able to know more people and network with my brand. And for that, I'm forever grateful."
Just because the new norm is happening doesn't mean we can't shop like how we used to. Be creative and explore through the digital era! Nothing is impossible with a positive mindset, hard work, and determination!
To explore and shop check out our below listing.
To become a part of the Virtual Expo Seller community, take action now and register.