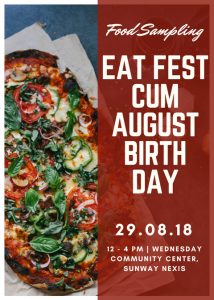 EAT FEST 2018
Good news for all!!
Calling all Sellers, Buyers, Supportive Community members, and those born in August.
WE'RE HAVING OUR FIRST EVER EAT FESTIVAL 2018
Come Sample and Celebrate with our lovely Community.
Objective: Networking while Food Sampling
Other Events: Birthday celebration of August Babies
Objective :
SELLERS
1. Meet the community of buyers
2. Get your samples out for as many to taste.
3. Get on the spot reviews.
4. Build relationships, trust and make friends.
BUYERS
1. Try everything you can in one place.
2. Savor local homemade delicacies
3. Forge friendship and trust building.
4. Know what's new in the market.